Manuka Honey For Pets: Health Benefits For Furry Life Partners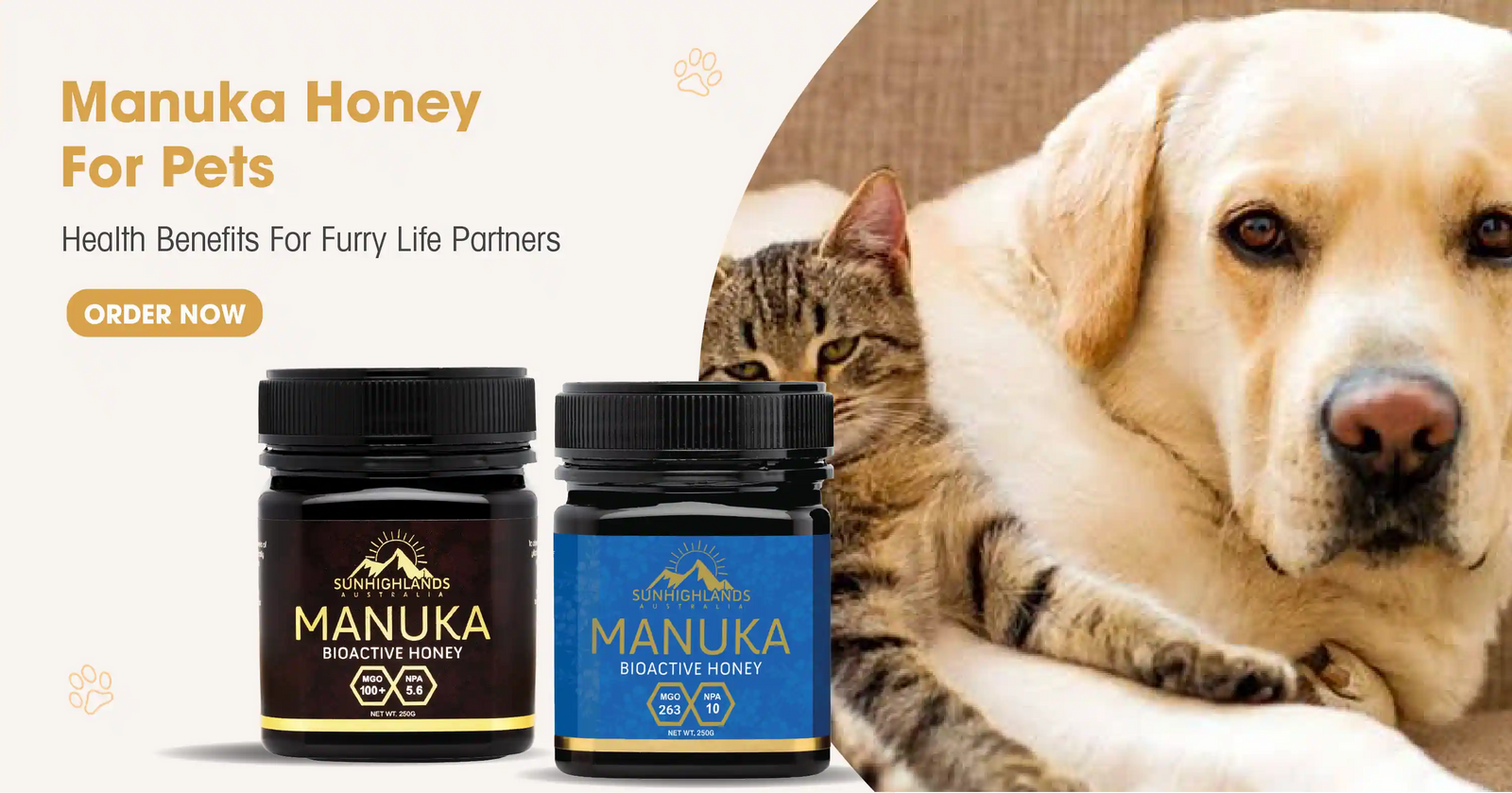 To all pet lovers out there, we know you have a strong bond with your dogs. Why not, they are symbolised for their unconditional love and faithfulness. Nurturing pets with dry kibble and wet canned food helps them stay active and alive. But what about giving a spur to their immunity?  
Well, better immunity of pets makes them ready to face every challenge with and without your care. When your dogs guard you throughout the night to so you can calmly dream of becoming an astronaut a doctor an entrepreneur or anything else, they also need extra care from you. How you can neglect the most faithful partner of your tough times?
Have you seen your dog's paw bleeding due to having a deep wound? Do your cats have digestive health issues persisting for a relatively long period of time? Does a newborn kitten face an allergy or irritation to the skin? Look no further. Today's post is all about the cure of pet problems with the golden gift of nature- the Manuka honey 
Manuka honey does wonders:
Manuka honey is a well-known ingredient to bless someone with good health benefits. Stealing its magical properties from Manuka bush (Leptospermum scoparium) native to parts of Australia, it is equally beneficial to the pet's health.
The high proportion of Methylglyoxal MGO is responsible for the anti-bacterial and anti-microbial properties of Manuka Honey. The non-peroxide activity (NPA) stabilizes it in heat, humidity, and enzymes. All these attributes make this nature's gold an ideal dose to combat more than a dozen health problems in both humans and pets.
How Manuka honey is beneficial for pets?
The pets' hunting, foraging, and playing activity sign life within them, but also mirror their underlying health.
Studies published in Aging And Mental Health and Novel Strategies Of Coping And Resilience, depicted the effect of pets on the mental health of humans. The little creatures put life into your dull and boring life, Do you think how we are taking care of them? Do not overthink! Keep Sunhighland's Manuka honey handy as from wound healing to curbing common cold symptoms this bespoke liquid fades all pet's health problems. Have a look!
Wound Healing:
Witnessing your beloved kitten or puppy with bleeding wounds can be distressing, but the remarkable ability of money to heal it is a source of comfort. Their bodies naturally initiate healing, but the process is slower than expected.
The clot formation, cell proliferation, and tissue repair individually all take time to cure. Keeping the wound infection-free is the toughest yet crucial step in the wound healing process; however, Manuka honey with its anti-inflammation properties first reduces inflammation, then its anti-microbial properties prevent all sorts of infections and lastly the anti-oxidant properties fasten the recovery. Wound dressing with infused Manuka honey returns your pet's smile.
Combat Skin Problems in Pets:
Skin infections in pets mostly result from allergies, dermatitis, allergies, and infections. These allergies cause many health problems in pet lovers including Asthma.
Understanding and addressing these issues are essential for pets and their owner's comfort. Brushing their hair coats to remove dirt, and potential allergens can solve the problems. However, bathing with Manuka honey hypoallergenic shampoo can combat all skin infections.
Spur Immune response:
Methylglyoxal (MGO), Dihydroxyacetone (DHA), and Leptosperinl; you might have heard about the role of three powerful ingredients of Manuka honey in boosting the immune system. Boosting your pet's immune system is also vital for their overall health and resilience. Getting your hands on adequate nutrition, regular exercise, and vaccination can bolster your pet's immunity. Additionally, providing a loving and stress-free environment with a daily dose of Manuka honey can further fortify the body's immune response. 
Fight against Common Cold:
Warm and cozy comforters with central heating systems sometimes don't go well and pets get arrested by the common cold. Approximately, 200 different types of bacteria cause disease in the human and other animals.
Nestled deep within the mystical, untamed forests of Australia, a treasure chest of unimaginable wonders lies concealed. This trove remains under the watchful guardianship of a secret society- the bees. Even a few drops of Manuka honey in winter keep pets warm, and well-hydrated and ensure proper nutrition to support their recovery.   
Support Gut health:
Approximately 89% of the pet's well-being secret lies in their gut health. Spending on your pet's gut health by adding a touch of sparkling Manuka honey to their food bowl is indeed a sweet and thoughtful way to support their gut. If your pet experiences constipation, inflammatory Bowel Disease, or Colitis, everything can be cured by this one ingredient. 
Ways to incorporate Manuka honey into pet's diet:
Buzzing ancient wisdom, bees produce nature's gold putting new life to your pets. There are so many ways to allow your pets to feed on this great meal. Definitely, topical, external, or oral usage all works well. Decorating animal food and baking Manuka cookies with lots of love can solve the mystery. Diluted manuka anti-septic solution cleans infected eyes, skin, and other body parts.
Additionally, you can add it to water to clean the pet's coat to alleviate allergies and infection. The stubborn dogs can take it orally with the help of a dropper. Using dressing for wounds infused with Manuka honey, preventing removal by common grooming practice or licking, 10X fastens wound healing.
Learn Previous Blog: Sunhigland's Manuka Honey Lip Balm: Nourish, Exfoliate And Soften Your Lips
A heads-Up: 
Pets including mix breeds of rabbits, cats, horses, and dogs all can easily digest Manuka honey. However, attention needs to be paid to knowing how much dosage you can give each of them.
Grounded by literature, 1 to 1.5 gms per kg body weight is considered safe, showing no associated setbacks. To know how much will be safe for your pet's keen observation or behavior changes in after having a Manuka honey dose are good indication. 
         Health is always our first priority; it gives us the freedom to explore the world. In case the symptoms persist or worse, consult veterinarians for further treatment and cure. 
---