Sunhigland's Manuka Honey Lip Balm: Nourish, Exfoliate And Soften Your Lips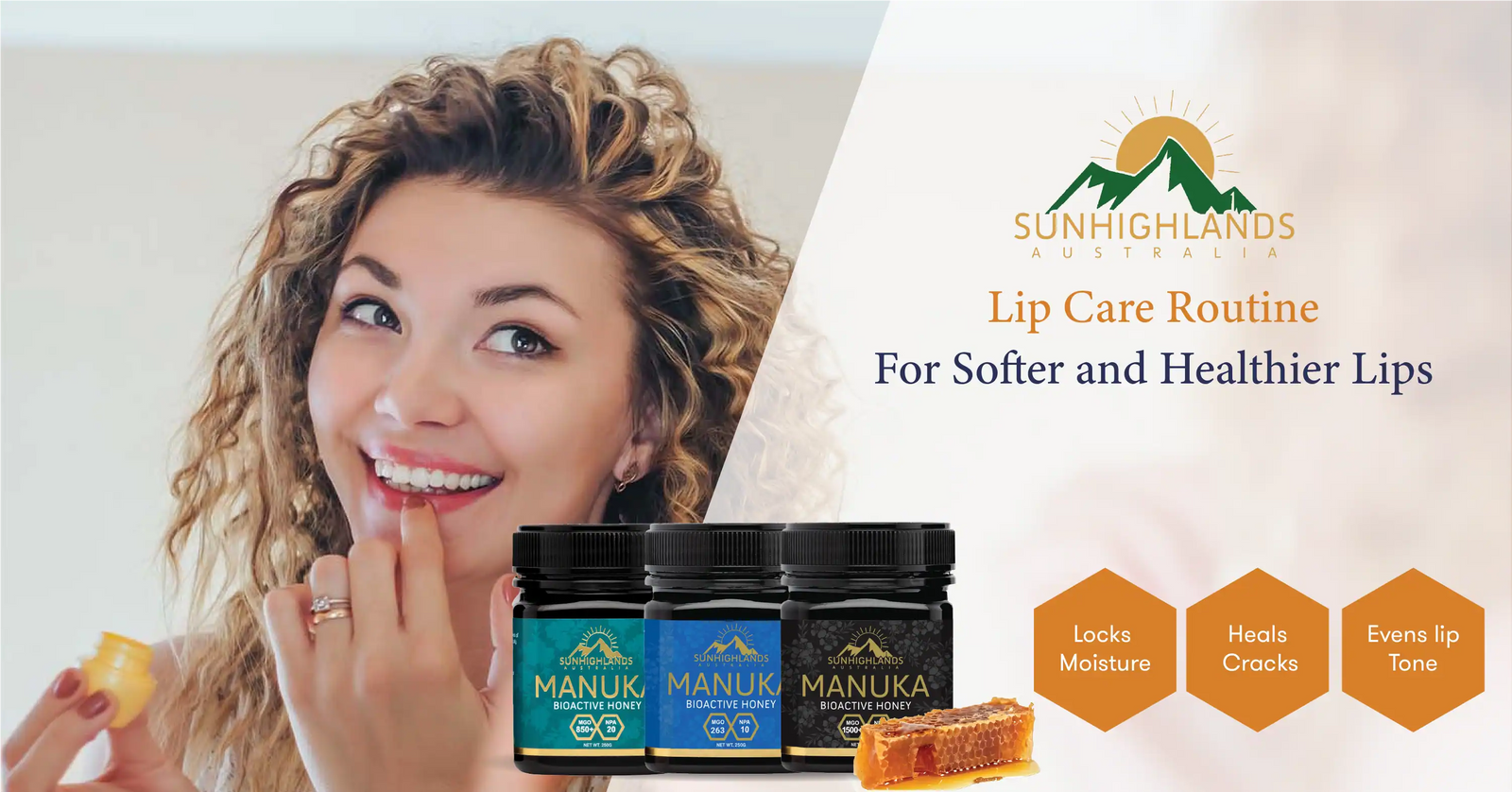 A dashing smile is the very beginning of every relationship and it's usually concealed behind perfect, pouty lips. Pink crackle's lips boost confidence to talk confidently with someone even at first sight. A confident expression enhances your charisma, keeping your letting your spark alive.   
We all like to have hydrated lips to become spellbound speakers, orators, and leaders. However, the dryness due to extreme cold, lipstick stains, and some vital vitamin deficiencies make having such charming lips a dream.
The best thing still to be announced is 'now this dream can come true'. Yes, you heard it right. A lip balm made with nature's gold or a dark blackish fluid from the forests of Australia can help you gently resolve all your lips-related problems.
If you are already Manuka's biggest fan, this post is going to be very exciting for you. Manuka honey lip balm is no less than any expensive luxurious lip balm from leading cosmetic brands, always good to carry in your handbags.
An ingredient known for its exceptional health and beauty benefits makes your lips luscious. Above all, from preparation to application, it is quite simple, even for a torpid person.
Let's start the discussion with some easiest preparatory steps of the Manuka honey Lip Balm recipe. Additionally, the benefits and ways of storing it for later use aim to help you get the best out of each homemade lip self-care product. 
What's exciting in Sunhighland's Manuka?
Sunhighlands Manuka honey is renowned for its exceptional benefits when consumed orally or externally. The potential of this super-ingredient sealed in each jar of Manuka honey has tons of grooming benefits, nourishing your lips is also one of them.
Sunhighlands at the heart of Australia is serving the potent Manuka honey with high anti-inflammatory, anti-oxidant, and anti-bacterial benefits to millions of clients worldwide.  
An ideal lip balm must-have:                     
Before jumping directly on the preparation of Manuka honey lip balms let's explore what makes a lip balm good. The concept is not as complicated. Millions of users of a survey conclude that a good lip balm not only moisturizes lips but heals cracks, smells good and turns them pink. 
In the quest for Manuka honey with the best qualities, checking its ingredients is the best way to ensure it lives up to its reputation. Manuka honey lip balms first moisten up the lips, the granular addition exploits the dead cells, and anti-bacterial properties fade the dark stains.  
Add a few drops of essential oils to your lip balm. They on the one hand soften your lips and on the other hand, add fragrance to enhance your lip beauty. What's more, you can easily carry Manuka honey lip balms into your pouches by storing them in specialized glass vials.
Problems a Manuka honey lip balm can combat easily:
Self-care demands us to transform ourselves from head to toe. When it comes to communicate, impress, and express; lips are always at the forefront. Lipstick stains, dehydration, bacterial or viral attacks, and weather extremities all of a sudden ruin their natural beauty. Chapped lips often result due to persistent nervousness, wrinkled lips by ageing, and allergic lips all are common concerns that are easy to overcome with proper care and attention. 
With tons of scholarly articles highlighting the anti-allergic properties of Manuka honey, we can surely trust Manuka honey lip balms. It's a sign of relief to treat all defects shaking your confident smile. Simply, a perfect smile starts with a pink pout and a million-dollar lip balm recipe starts with Manuka honey. Let's take a tour of its preparation without taking too much time.
Before making lip balm, let's first gather all the ingredients:
List to buy for Making Manuka honey lip balms:
1 tablespoon of Manuka honey (preferably with a high MGO rating for enhanced benefits)
1 tablespoon of coconut oil
1 tablespoon of shea butter
2 tablespoons of beeswax pellets
1 teaspoon of brown sugar (for exfoliation)
A few drops of vitamin E oil (optional, for added nourishment)
10-15 drops of your preferred essential oil for fragrance (e.g., peppermint, lavender, or vanilla)
Once you add all these ingredients into your cart, all you need is to follow the following simple steps one by one and the perfect Manuka honey lip balm will be yours. To get the desired results and instantly smooth lips, you must have a highly potent Manuka honey from a trusted brand Sunhighland's Australia. We have a track record of thousands of satisfied customers; that's the proof in the pudding.
Recommended: The Benefits and Process of Honey Tapping for Beautiful Skin
4 steps to Make an Effective Manuka Honey Lip Balm:
Despite having a busy routine, spending five minutes to make these magical lip balms is not as complicated. These four simple steps take only 4 minutes but help you  get you what you have been dreaming of for years. Have a look!
Step 1: Melt all ingredients:
Use a double boiler to melt the beeswax, shea butter and coconut oil on medium to low heat. Otherwise, use Microwave for 20-10 seconds to melt all the ingredients while continuously stirring until fully melted.
Step 2: Add Manuka honey and Exfoliants:
Once all ingredients are melted, remove the mixture from the heat and add manuka honey to it. Stir to make a perfect mix. Add brown sugar to make an exfoliating texture in a homogenous mixture of all these vital ingredients. 
Step 3: Add a few drops of Vitamin E and Essential oils:
If Vitamin E or essential oils suit you or you are not allergic to any of these ingredients, add them to the mixture. Don't worry, these ingredients are just to make your lips extra smooth and add some fragrance, so you can skip them easily.
Step 4: Pour into a small glass vial:
Make sure your lip balm container is clean and dry before pouring the mixture into it. Let it solidify into the containers for weeks and feels easy to carry it with you while travelling or on summer vacation.
Direction to apply:
Homemade Manuka honey lip balm is easy to apply. Just take a minute amount of it with your index figure and generously apply it into a circular motion. Leave it for 5-10 minutes and then clean it with a damp sponge or towel. 
Final Verdict:
Without any second thought, Manuka honey lip balm helps you make a strong lip care regimen. It's a perfect addition to your day-to-day smile challenges. It adds glam to your personality and helps you feel as confident as you have ever before.
These magical beauty benefits are hidden in the medical and therapeutic properties of Manuka honey. Buy it now and rock in your field with your charismatic personality that always starts with bouncy lips. 
---