Manuka Honey Candy- A Blend Of Taste With Health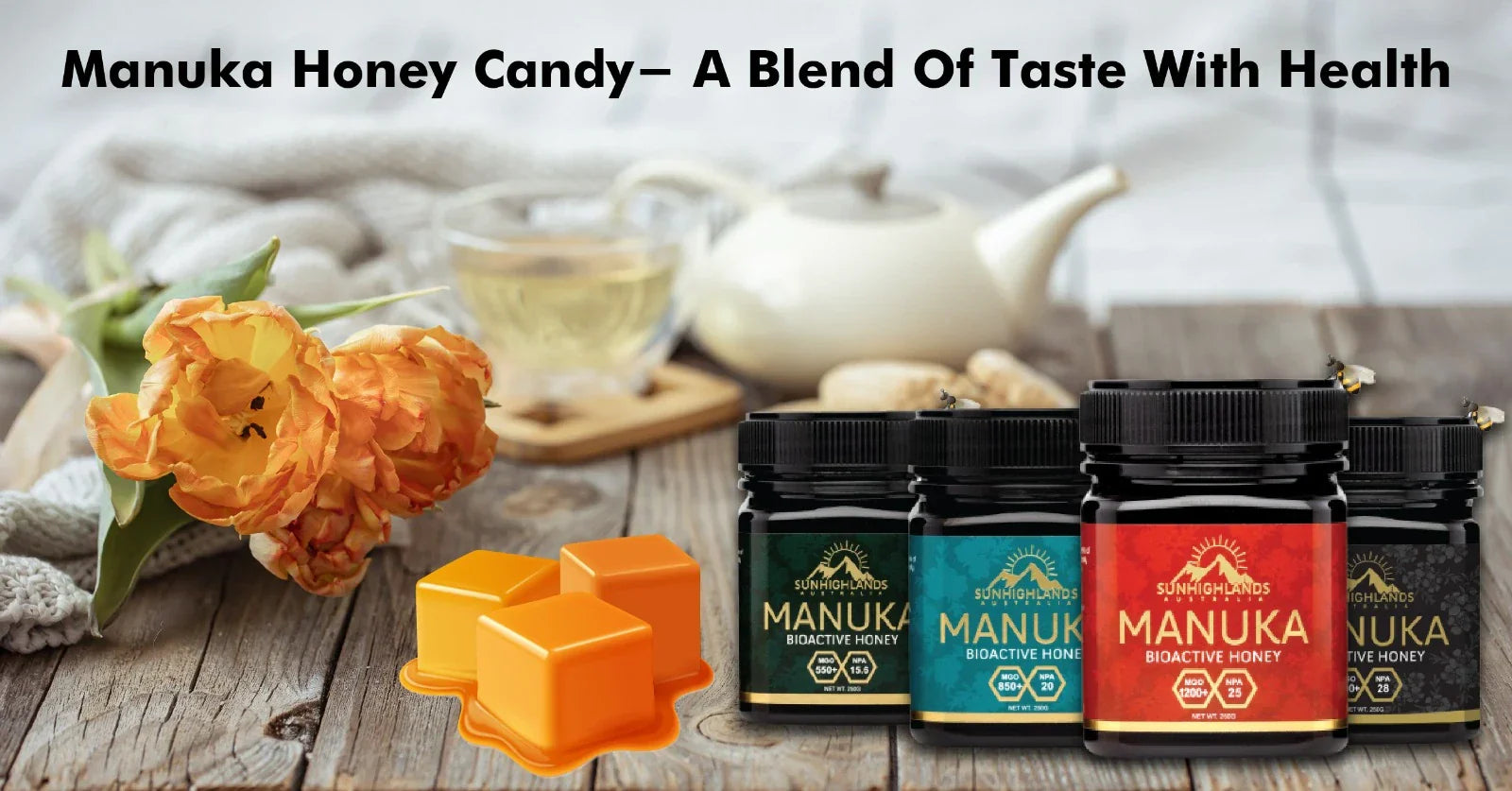 Manuka honey's sweetest treat melts in mouths, offering a unique blend of taste with potential health benefits. From stubborn to one with sweet teeth, these crunchy confectionery are just a way to amuse all.
Candies made with honey contain Caramel, cream, and butter providing a symphony of a perfect blend. While maintaining the hygiene on your own kitchen shelves, and all ingredients in your pantry, Manuka honey Candy is a superb reward for a naughty kid.
To make a cube full of goodness honey, all you need is a Manuka honey jar packed by Sunhighlands Australia. For all parents out there who remain in search of a healthy or fun recipe for their kids, today we have a detachable yet palatable Manuka Honey candy recipe. Let's delve into the details and figure out how to make and present these toothsome tidbits.
Manuka Honey Caramels Candy: 
Whip up a batch of Manuka Honey Caramels Candy, and you'll have a sweet treat that's the bee's knees. Mentioned below is a way to let your taste buds dance with joy of happiness and boost your morale throughout the way by consuming sweet meals made with Manuka honey.
Ingredients:
Well, it's the ingredients mixed in the right proportion that gives the ideal taste, texture, and shape to a dish. Arranging ingredients for this recipe is not a burdensome process. A store at the corner of your street helps you find sugar, unsalted butter, pure vanilla extract, and heavy cream. Likewise, getting your hands on the best and purest form of Manuka honey can be challenging. Hitting the fastest solution, get it from Sunhighlands Australia to quickly resolve all your worries.
To make a perfect recipe, you need the following ingredients.
1 cup Manuka honey (choose your preferred MGO rating)
1 cup granulated sugar
1 cup heavy cream
4 tablespoons unsalted butter
1/4 teaspoon salt
1 teaspoon pure vanilla extract
Fun and playful Recipe of Manuka Honey Candy for Kids:
Take a pan from your kitchen pantry and line it with parchment paper (8x8-inch) for easy removal later.
Use a heavy-bottomed saucepan to prevent burning and ensure even distribution of heat all over the pan.
Combine Manuka honey, sugar, heavy cream, and salt in a pan on medium to low flame and stir continuously until the sugar dissolves.
Place a candy thermometer on one side of the pan and start increasing the heat to medium-high. Let the candy cook until the mixture reaches 121 °C- commonly called the 'hard ball' stage. It's the perfect time to remove the pan from the heat.
Take a bowl and stir the butter and Vanilla extract until combined well.
Pour the hot caramel mixture into the prepared baking pan. Let it cool at room temperature for a few hours or until completely set.
Once the caramel has cooled and set, use a sharp knife to cut it into small squares or rectangles.
Wrap individual caramel pieces in wax paper or parchment paper, twisting the ends to seal them.
Store your Manuka honey caramels in an airtight container in a cool, dry place.
Delightful ways to Present Manuka honey candy:
Wrap the sweetest detectable in wrappers made with funky papers to amuse kids. The addition of ribbons and intricate wrapper designs transform them into exquisite edible works of art. Above all, you can also use specialised molds to turn these candies into enthralling cartoonist forms. Explore more to know about some fun shapes for your Manuka honey Candies:   
Tear-shaped candies: Use a tear-shaped mold and pour the hot caramel mixture into it. Let it cold and wrap ribbons around them to further entice your child.
Fish-shaped candies: Fish are naturally built for swimming, so fill the fish molds with an ample amount of caramel mixture and allow it to cool. Once it has solidified, present them submerged in sugar water to create a captivating swimming fish scene.
Twisted Candies: The artistry lies in the shape of the twisted candies. Begin the journey by skillfully twisting and shaping your hot caramel candies into delightful designs. Once the twisted candies solidify, they become a testament to your dedication to sweet perfection.  
Sphere and Ball-shaped Candies: Ball-shaped Manuka honey candies are made to present these crunchy treats on Christmas trees and dishes at Halloween parties. It's the sweetest way to enjoy the sweets without compromising oral health. 
Manuka honey mgo and Kids:
Do children eat candies made of high MGO Manuka honey? Well, it's a point that we must discuss before making a final decision. Basically, there is no definite answer to this question. Your kid may or may not digest the potent Manuka honey. Additionally, the age of the kid also assists us in finding the most accurate answer. Infants under age one often fail to consume Manuka honey with High MGO levels. However, for older children candies made with Manuka honey are a great source of satisfying their taste buds. 
The conclusion of the discussion is 'yes' your children will surely enjoy these candies- but their consumption must be in moderate amounts. Sunhighlands Australia has a plethora of options that vary in terms of Manuka honey MGO level. Choose the best pack for your child and let him feel cosy in every weather extremities. 
Bottom lines:
Start your days with Manuka honey Candies that perfectly define your daily health regimen. It's the goodness of Australian honey that infuses with a strong earthy taste to energize your day. Prepare your child to overcome all school challenges by crafting candies made by Sunhigland's Manuka honey candy. Try it! Enjoy it! 
Exploring the Sweetness of Manuka Honey Candy
There's something undeniably special about Manuka honey. Its rich, distinctive flavour and renowned health benefits have been cherished by many for years. Today, let's delve into a treat that unites tantalising sweetness with a healthful twist - Manuka Honey Candy.
Recommended Blogs: Sugar Vs Manuka honey:  Which is sweeter and what is healthier?
Creating Manuka Honey Caramels
These delectable Manuka Honey Caramels not only provide you with a sweet indulgent treat, but also contain a burst of nature's goodness in every bite. Whether you're satisfying a sweet tooth or looking for a little treat, these candies are sure to be a delight.
Ingredients
The key to a perfect Manuka honey candy lies in the balance and quality of its ingredients. Most of them, like sugar, unsalted butter, pure vanilla extract, and heavy cream, are probably already in your pantry. And when it comes to getting your hands on the finest Manuka honey, it's as simple as flicking through our website and securing a jar of quality Sunhighlands Manuka Honey.
Here's a quick guide to what you'll need:
- 1 cup Manuka honey (choose your preferred UMF rating)
- 1 cup granulated sugar
- 1 cup heavy cream
- 4 tablespoons unsalted butter
- 1/4 teaspoon salt
- 1 teaspoon pure vanilla extract
Step-By-Step to Sweetness
Creating Manuka honey candy is a delightful kitchen adventure, so let's get started!
Prepare the Pan: Line an 8x8-inch pan with parchment paper for easy candy removal.
Mix & Melt: In a heavy-bottomed saucepan (to prevent burning), combine Manuka honey, sugar, heavy cream, and salt. Stir over medium-low heat until the sugar fully dissolves.
Heat It Up: Attach a candy thermometer to the pan, increase the heat to medium-high, and let the mixture cook until it reaches 121 °C (the 'hard ball' stage). Remove from heat.
Add Final Touches: Stir in the butter and vanilla extract until well combined. Pour the hot caramel mixture into your prepared pan, allowing it to cool at room temperature for a few hours or until set.
Shape Your Candies: Once set, use a sharp knife to cut the caramel into your desired shapes. Wrap them in wax or parchment paper, and voila, your Manuka honey candies are ready to be savoured!
A Note on Manuka Honey and Kids
When it comes to children enjoying these honey-infused treats, moderation and mindfulness are key. While Manuka honey offers a multitude of benefits, the MGO levels (Methylglyoxal) and the child's age should be considered to ensure a delightful and safe snacking experience. Always consult a medical professional if unsure. 
Manuka honey candies are a little burst of sweetness that come with their own health perks. Great for a mindful snack or a kid's treat, they bring a piece of joy and a touch of goodness to our everyday lives. Happy candy-making!
---