Five ways to use Manuka Honey with Sunhighlands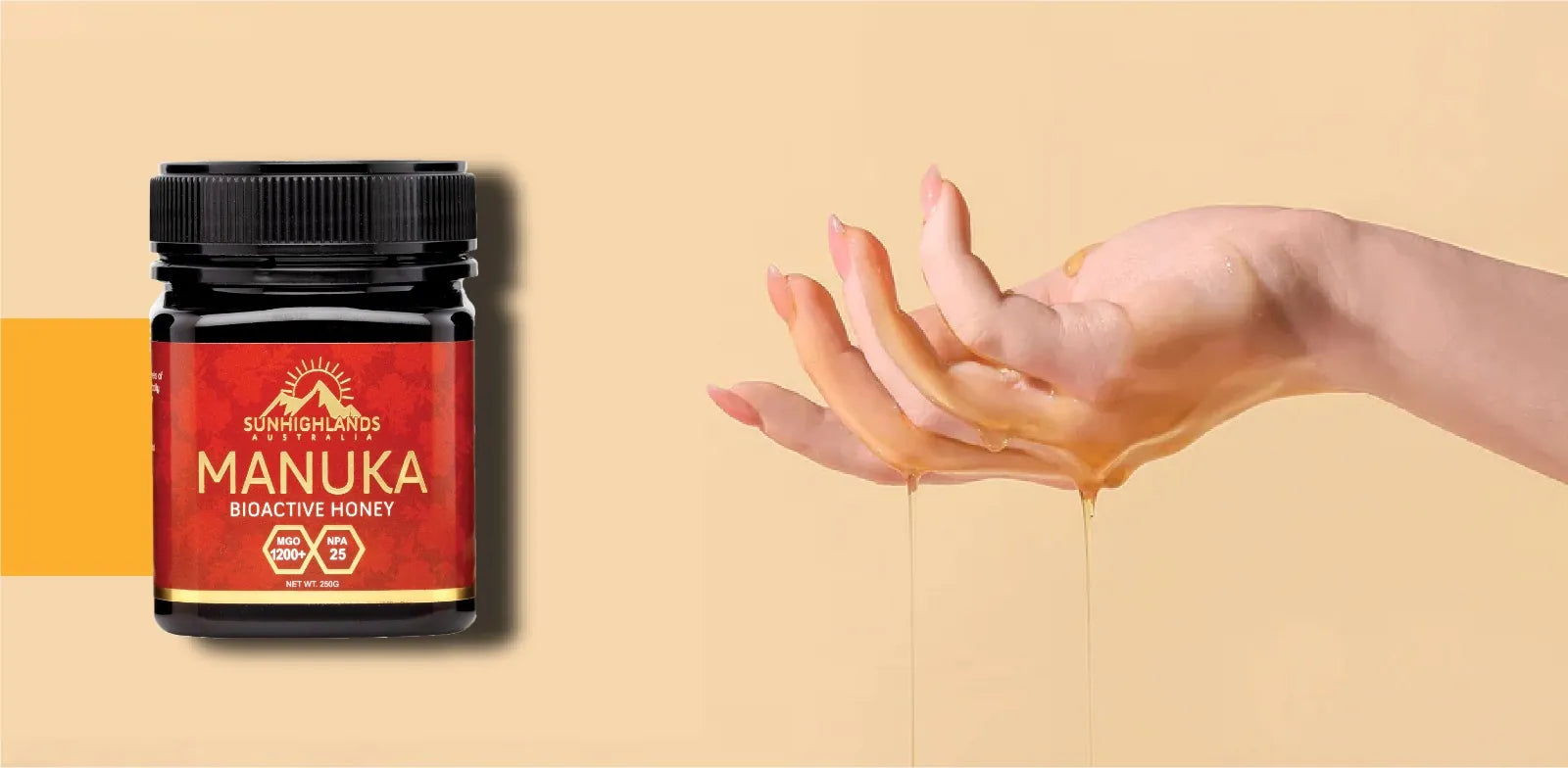 Sunhighlands' manuka honey is a monofloral honey produced from the manuka tree, Leptospermum, that naturally grows in Australia and New Zealand. Manuka honey is also used as a sugar substitute and is used as a sweetener. With immense benefits, the demand for Manuka honey is also very high,  Some evidence showing its topical use is also available.  
Sunhighlands produces offers the best quality honey products for families. We pride ourselves on delivering great Australian quality and service. Sunhighlands' manuka honey is 100% Australian.
The  major uses of Manuka honey are:
Remedy for sore throat 
Manuka honey has multiple components that can soothe a sore throat and severe cough. Manuka honey has immense anti-bacterial properties and is used for soothing the throat. If you are looking for the best Manuka Honey in the town, Sunhighlands is the best choice for you!
Widely used in Skincare routines
Manuka honey is also used as a skincare product as its properties are beneficial for the skin and reduce acne. As we already know that overall honey is beneficial for the skin and is used in various skincare products and creams.
It has PH value that is extremely beneficial for the skin. As Manuka honey has a calming effect that is extremely beneficial for sensitive skin. So, if you're someone who has sensitive or acne-prone skin, Manuka honey must include in your skincare routine.
Use for soothing burns and wounds
According to various research, honey is a soothing agent when it comes to wounds and burns. In ancient times, people use Manuka Honey as a soothing medicine and people practice this even today. Overall Manuka Honey has a number of benefits, so if you're looking for the best Mnauka Honey, Sunhighland should be your first and only choice.
According to research, it can stimulate tissue regeneration, aid in wound debridement, reduce inflammation, and reduce swelling. Overall, with a wide benefits range, the manuka honey from Sunhighland is 10/10 approved with several auntenciity certifications.
Use as a Natural sleep aid
Manuka honey MGO may act as a natural sleep aid by promoting restful deep sleep. During sleep, it gradually releases glycogen, which is required for essential bodily functions.
The Manuka honey act as a natural sleep aid that will help you sleep peacefully. Drinking Manuka honey, with milk will enhance the chances of good sleep as honey has been shown to improve sleep quality, and it may help reduce the risk of these and other health issues. 
Overall Manuka Honey has immense benefits and Sunighland manuka honey is the best MANUKA HONEY in Australia. Shop now!
Manuka Honey as a Traditional Medicine
Hundreds of years ago, people from ancient times used Manuka honey as a traditional medicine. As discussed earlier, honey has a number of health benefits so people from old times used Manuka Honey as a medicine for burns and wounds, and also as a sleep aid. 
Research has not confirmed that raw honey has more health benefits than regular honey, but some people believe that the processing and pasteurization that regular honey undergoes diminishes many of the beneficial elements. Some people believe that because of this, raw honey provides more health benefits than regular honey.
Sunhighlands' Manuka Honey is the most potent product to maintain digestive health. MGO 550+ is medium-strength honey. It is a powerful superfood and prebiotic with strong antibacterial activity, excellent for digestive health.
With potent cleansing qualities this rich, velvety, and flavorsome honey is great by the teaspoon or in your smoothie, to keep your insides happy.
About Sunhighlands:
Sunhighlands sources its Manuka Honey from North East NSW and Forest Organic Honey from beehives in Central West NSW.
One of the most important antibacterial components of Manuka honey is a compound known as methylglyoxal" (MGO). MGO comes from the conversion of another compound in Manuka Honey known as dihydroxyacetone (DHA), a high concentration of which is found in the nectar collected from Manuka flowers.
To retain live enzymes and nutrients, we also ensure that our honey is extracted at a low temperature. The properties of honey are beneficial for health and well-being.
Our Forest Organic Honey is harvested and produced strictly under ACO regulations. We want to thank the hardworking staff and beekeepers who have provided our consumers with great-tasting Australian Manuka honey.
Taste the freshness of our Manuka and Forest Organic honey, made with love! All your favorite varieties of honey in one store, with 100% quality guaranteed
Now you know where to find the best manuka, honey! Shop now
---