Explore the benefits of Flavoured Manuka Honey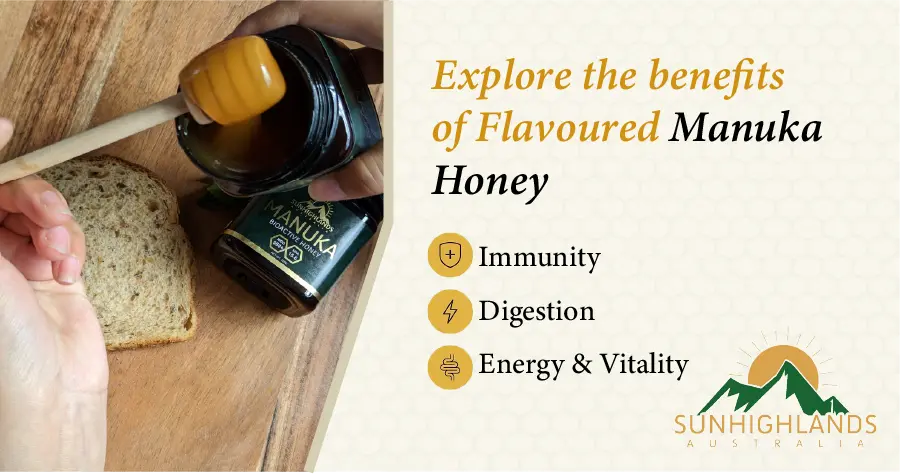 Nutrition is one of the most important factors and has a direct effect on human health. Malnutrition (lack of nutrients) not only affects the quality of life- but also causes many nutrition-deficiency-related ailments. As a general note, to give your 100 % at work and study, health demands great investment.
From children to aged persons, everybody needs to have a balanced diet. Most of the vital biological processes are driven by nutrient-rich food, including growth and development, disease prevention, and lifestyle modification. Consequently, we can say that it's nutrition that's controlling us from head to toe. Unfortunately, most of the healthy food does not tantalise our palate- but no worries. Sunglighlands- an Australian Manuka honey retailer have packed pure, unprocessed, and original honey- a known caretaker of your health, in eco-friendly packaging. Manuka honey has a much more complex flavour profile than ordinary honey; so available in a variety of flavours.
Whether you are worried about the daily nutrient intake of your child, boosting your day with positive energy, or extremely upset by the deteriorating health of your parents, Manuka Honey is equally beneficial for all. The best part of this magical ingredient is from suborn children to diabetic parents, no one refuses to take flavoured Manuka honey. This tasty medicinal fluid is a cure for hundreds of thousands of diseases, making it possible to take it directly in the morning or improve your desserts without sacrificing taste. So, let's see how Sunhighlands Natural Manuka honey is going to transform your life.
Pharmaceutical properties of flavoured Manuka honey:
When it comes to transforming your life, there is no other option than adding 1 or 2 spoonsful of Manuka honey to your daily healthcare regimen. As per individual preferences some don't want to take the honey in its original taste. Unlike other types of honey, Manuka is known for its earthy taste instead of flowery taste, thus becoming a reason why some people do not want to consume it directly. No doubt, Manuka has a thick, creamy, and indulging flavour, but to maximize its consumption it is added with some other ingredients, commonly called flavour Manuka honey.
Fortunately, this product is amazing for those who get easily bored of consuming one flavour over time and who just dislike the earthy taste, without losing its health benefits. Flavoured Manuka honey is simply the infusion of Manuka honey with some other ingredients to impart it different taste and aroma. These ingredients may include ginger, lemon, cinnamon, and fruit extracts such as raspberry, strawberry, and blueberry. 
Above all, the best part all flavoured Manuka honey is:
Anti-bacterial properties:
The estimated high level of Methylglyoxal compounds (MGO) in Manuka honey is directly correlated with its antibacterial properties. Not believing our words? No worries see what J. Atrott [1] reported about Manuka in his scientific paper, published back in 2009. He provided scientific proof showing a correlation between MGO level and anti-bacterial properties. You may wonder if it's a bit outdated; still no problem, the recent evidence of this point has also been reported so far in studies 2,3, and 4.
In this scenario, if someone is taking any organic product with anti-bacterial properties, then staying away from all hundreds of thousands of diseases will be much easier. To know more about these properties of Manuka, you must find the literature evidence in studies live presented by Patel and Cichello[6].
Anti-inflammatory benefits:
Due to the exponential increase in the onset of chronic diseases like heart disease, blood pressure, cancer, and diabetes, the use of food having anti-inflammatory properties is a smart move. Flavored Manuka honey, has reported anti-inflammatory properties, essential to keep you fit. The anti-inflammatory properties of Manuka are due to Leptosperin- an active compound in organic fluid formed by honey bees when they intricate in complex nectar collecting process with the Manuka tree. For getting literature evidence, read Opšivač's scientific study [5], reporting a wonderful fact linking Manuka honey with anti-inflammatory properties.
Bioactive components of Flavoured Manuka honey:
Probably you are thinking about the super-ingredients in Manuka honey responsible for making it your best health partner. The laboratory test and phytochemical analysis of Manuka honey reveal three active compounds: Methylglyoxal (MGO), Leptosperin, and phenolic compounds.
  Methylglyoxal: It's the active compound of Manuka honey that directly measures the anti-bacterial properties. It has the potential to fight against even antibiotic-resistant bacteria such as MRSA.
  Leptosperin: The second important compound in Flavored Manuka honey is responsible for the anti-inflammatory properties of Manuka. It also serves as a basis of UMF (unique Manuka factor)- an analytical method to measure Manuka's potency.
  Phenolic compounds: The third most important compound includes all the phenols and flavonoids. From curing skin scars to the great wound healing capacity of Manuka, all are gifts of these phenolic compounds.
Wide collection of Manuka Honey at Sunhighlands:
All these exceptional properties of Manuka make it a valuable addition to your pantry. However, when it comes to purchasing the world's best Manuka honey ever, there is no other option to stand taller than Sunhighlands. We have an extraordinarily large collection of Manuka honey for MGO lovers to MGO sensitive people. Here, you can get:
Final thoughts:
In conclusion, the flavoured Manuka honey is a delightful and versatile option to enjoy its unique taste. The addition of flavours such as garlic, cinnamon, or fruit extract makes it a culinary creation as per the preferences of different consumers. It makes it an ideal fit for cooking purposes or to give extra dimensions to your side dishes and desserts, without losing its medicinal properties. However, all these tasty medicinal benefits of Flavoured Manuka honey will only be enjoyable, unless you buy it from a reputable brand. To protect yourself from all fake brands, you must taste our special, and organic honey to revitalise your days. 
References:
Atrott, J., & Henle, T. (2009). Methylglyoxal in manuka honey–correlation with antibacterial properties. Czech Journal of Food Sciences, 27(Special Issue 1), Methylglyoxal-in.
Ranzato, E., & Martinotti, S. (2016). The Secrets of Honey: Why this old remedy is still useful. Honey: Geographical Origins, Bioactive Properties, and Health Benefits; Ramirez, R., Ed.
Martinotti, S., Calabrese, G., & Ranzato, E. (2015). Honey and Wound Healing: New solutions from an old remedy. Wound Healing: Cellular Mechanisms, Alternative Therapies and Clinical Outcomes; Wade, LE, Ed.
Hossain, M. L., Lim, L. Y., Hammer, K., Hettiarachchi, D., & Locher, C. (2023). Monitoring the Release of Methylglyoxal (MGO) from Honey and Honey-Based Formulations. Molecules, 28(6), 2858.
Opšivač, D., Musić, L., Badovinac, A., Šekelja, A., & Božić, D. (2023). Therapeutic Manuka Honey as an Adjunct to Non-Surgical Periodontal Therapy: A 12-Month Follow-Up, Split-Mouth Pilot Study. Materials, 16(3), 1248.
Patel, S., & Cichello, S. (2013). Manuka honey: an emerging natural food with medicinal use. Natural products and bioprospecting, 3, 121-128.
---