Explore The Newest Ways To Incorporate Manuka Honey Into Your Life- Date Pancakes Recipe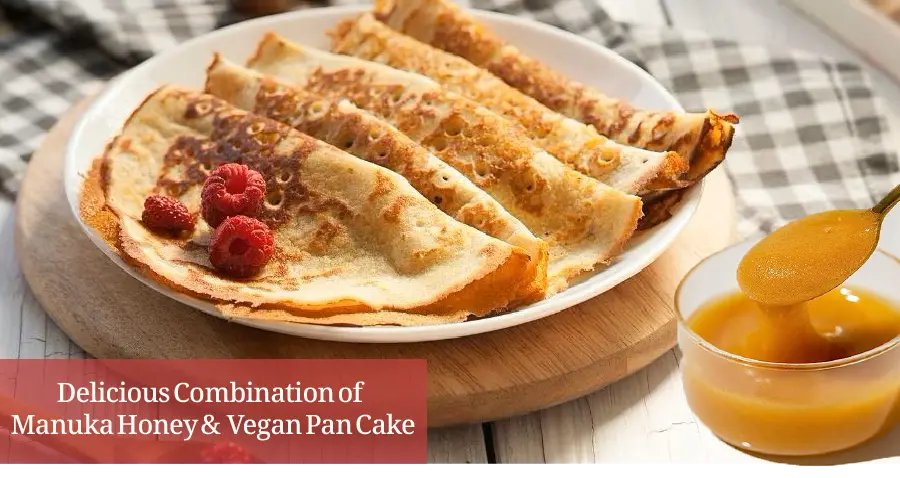 To all Manuka honey lovers out there, we want you to enjoy the taste of this delicious yet viscous fluid in a new way. Yes, are you a honey lover? Do you want to get yourself lost in the strong earthy taste of Manuka? Are you ready to serve your children with something full of nutrients? If this is so, don't miss the article.
Most probably you've got what we wanna discuss with you. Still, to unveil the suspense, lemme tell you what is the exact topic for our today's discussion. Simply, we will help you know a dish that is sweet, healthy, and palatable, consumed by everyone irrespective of what age group you actually belong to.
Dates, nature's sweet jewels, have been made a part of our meals for centuries. However, fluffy pancakes are the all-time favourite breakfast of kids of every age (even you and I). Lastly, Manuka is the fluid of taste and health, allowing millions of children, youngsters and even elderly people to cure all their minor and sometimes major health issues.
Imagine how you will feel by consuming the pancakes made using dates and sizzled with Manuka honey. Isn't it mouth-watering? Yes, it's truly finger-licking good. We hope you are excited to learn this luscious date pancakes recipe. So, be ready to screenshot this amazing recipe, and save it on your gallery for later use.

Before sharing ingredients and instructions for making date pancakes with Manuka honey, let's start by considering the difference between Manuka honey by SunHighlands and other similar retailers.
Manuka Honey By Sunhighlands:
Unlike other Manuka honey brands, the Sunhighlands™ Manuka honey contains a range of antioxidants such as flavonoids and other compounds, helpful in reducing toxins from the body. Moreover, the anti-inflammatory properties of Sunhighland's Manuka honey are considered more potent than other similar brands. The high anti-oxidants and anti-inflammatory potential, often monitored by MGO level, is preserved by in its natural form as its 100% organic, unprocessed, and potent honey harvested from the forests of Australia. All these and many other properties make Sunhighlands a trusted voice of Australians, especially those who appreciates of this natural product.
Date Pancakes Recipe by Sunhighlands' Manuka Honey:
Pancakes are sweet dishes made with all- purpose flour, sugar, butter, and full cream. Its' topping with your favourite dry fruits, dates, caramel, and of course honey, adds taste to this delightful food. By considering the nutrient profiles, the daily requirements, and of course to tantalize your palate, we are going to share a date pancakes recipe with Manuka honey. Note the ingredients, and their quantity, and follow these instructions to serve your loved ones with an enticing recipe.
Ingredients:
1 cup premium all-purpose flour
1 tablespoon Fresh or flavoured baking powder
1 tablespoon full of sugar
Salt to taste (recommended is a half teaspoon)
1 cup full cream milk
½ cup hand-picked premium dates
1 large wholesome milk
2 tablespoons plain butter
½ cup Sunhighland's Mgo 550+, 850+, or 1000+ Manuka honey
Methods to make the world's best date pancakes with Manuka honey by Sunhighlands:
Take a large bowl for mixing all the ingredients properly. Make sure the bowl is clean and neat. Once you verify the cleanliness, start adding the ingredients including all-purpose flour, flavoured or fresh baking powder, salt and sugar.
Take another neat bowl and whisk some milk, eggs, melted butter, and Sunhighland's Manuka honey.
Gently pour the first mixture into the second one and stir so all ingredients get combined. While stirring keenly observe the texture of the mixture. Be aware not to overmix, fine lumps or date chunks will make it more delicious.
Heat a non-stick pan over medium heat and use oil or butter to lightly grease it. It will help your pancake detach smoothly.
Pour about ¼ cup of batter or the pancake mixture into a pre-heated pan and cook until bubbles form on the surface. At this stage, flip the side and let the other side be golden brown too.
Use a spatula compatible with your non-stick pan to remove the yummiest date pancakes recipe with Manuka honey and pour more batter onto the pan.
In the meanwhile, heat the Manuka honey, melt the dark chocolate and roast some dry fruits. All these ingredients and chopped dates will serve as garnish and topping of the pancake.
Serve it with your favourite drink- Manuka honey smoothie, coffee sweeten up with Manuka honey, or lemonade (if you like).
Congratulations! Your world's best date pancakes recipe with Sunhighland's super tasty and tantalizing Manuka honey is now ready to be served.
Discover New Ways to Enjoy Manuka Honey: Date Pancakes Recipe
Calling all Manuka honey enthusiasts, we've got something delicious in store for you. Want to explore a fresh way to savour the rich, distinctive flavour of Manuka honey? Are you keen to dish up a nutritious treat for your family? If you nodded along, then our Date Pancakes recipe will blow you away.
We're cooking up a deliciously sweet and wholesome treat, something everyone in your family will enjoy, regardless of their age. We're combining nature's sweet treats - dates - with everyone's beloved breakfast choice: fluffy pancakes. To top it off, you'll drizzle it all with Manuka honey, the amazing ingredient that's helped countless people combat health issues, big and small.
Before we jump into the ingredients and cooking instructions, let's understand why Sunhighlands' Manuka honey stands out from the crowd.
Sunhighlands' Manuka Honey:
Unlike some other Manuka honey brands, Sunhighlands' Manuka honey boasts a rich supply of antioxidants like flavonoids, as well as other beneficial compounds that aid in detoxifying the body. With potent anti-inflammatory properties, this honey is harvested from the forests of Australia and is 100% unprocessed and raw. It's these characteristics that make Sunhighlands a favourite among Aussies.
Related Blog: Indulge In Mother Nature: Tempting Manuka Honey Recipes For A Healthy Treat
Date Pancakes Recipe with Sunhighlands' Manuka Honey
One thing's for sure, everyone loves pancakes. Keeping the nutrient profiles and daily requirements in mind, we're going to share a date pancake recipe featuring Sunhighlands' Manuka honey.
Ingredients:
1 cup all-purpose flour
1 tablespoon baking powder
1 tablespoon sugar
Salt to taste (we recommended half a teaspoon)
1 cup full cream milk
½ cup dates
1 large egg
2 tablespoons butter
½ cup Sunhighlands' MGO 550+, 850+, or 1000+ Manuka honey
Method:
1. In a large bowl, add the all-purpose flour, baking powder, salt and sugar.
2. In another bowl, whisk together milk, an egg, melted butter and Sunhighlands' Manuka honey.
3. Gradually pour the dry mixture into the wet one and combine.
4. Heat a non-stick pan over medium heat and lightly grease it. Pour ¼ cup of the batter into the pan and cook until bubbles form on the surface. Flip and cook until golden brown.
5. Repeat with the remaining batter.
6. Meanwhile, gather some Manuka honey, melted dark chocolate and roasted dry fruits. These ingredients, along with chopped dates, will serve as a garnish and topping.
7. Serve the pancakes with a drink of your choice.
And voila! You've just made some fantastic date pancakes with Sun Highlands' Manuka honey.
We hope you enjoy this scrumptious recipe we've shared with you today, using Sunhighlands' Manuka honey. So why wait? Get the ingredients, follow the steps, and enjoy these pancakes with your loved ones.
Remember, Manuka honey is a versatile and nutritious product. Keep an eye on our future posts for more ways to include this Aussie treasure in your daily routine.
Final Words:
In summary, today we shared an easy yet yummy combination of date pancakes and Sung]highlands' Manuka honey, for all who have fallen in love with this Australian honey. Now, just rush to your nearest market and immediately fill your bucket with dates, baking soda, nuts, sugar, salts, and all-purpose honey. Don't you think this brief ingredient list is missing a vital ingredient-the Manuka honey? Yes, you are right; to add this special ingredient to your cart, you must visit Sunhighlands Australia's official website.
You will be amazed by the unbeatable and super-exciting discounts on Manuka honey MGO 550+, 850+, and 1200+ jars. Once you get all the ingredients, follow the above instructions and enjoy the tantalizing culinary experience of these pancakes with family, friends, and colleagues.
If you are impressed by Manuka honey's health benefits, stay connected with us. We will help continue to share all new and exciting ways to make it a part of all your daily treats.
---